Company Philosophy
Cosmau company focus on perfect slip ring
"Perfection in slip ring" means we put all of our creativity and energy into development the best products for the customer. At cosmau, we promise to providing our customer with perfect solution that provides maximum economic efficiency and usability.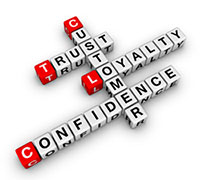 From standard products to customized solutions, try our best to meet our customer's application requires is our main focus.

From the material purchase to mass production, every segments was finished by our professional staff, and manufactured at our advanced factory. Stable material supplier, advanced production process and a complete set of test equipment with the latest technology to ensure the quality of the products.

Stable customer group is essential for a company, we do not consider short-term relationship with our customer and supplier, we focus on looking for partnership based on lasting trust and a high level of professional. Confidence and loyalty is the basic of condition before built a long-term cooperation relationships between us.

As a partnership, independent owned corporation, open culture, humanistic management and efficient execution are the things we do all the time, so we are a reliable partner, and you never worry about our sudden changes, it is our guarantee.

We are from cosmau company, loyalty, trust and confidence are our commitments to you, choose cosmau, choose success!