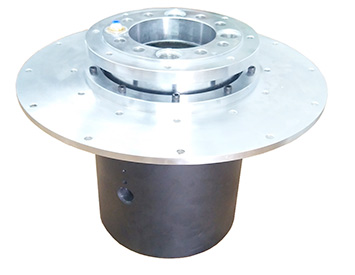 THROUGH BORE ROTARY UNION
Through bore rotary union is designed for single and multi-passage rotary union.10-260mm through bore, for pneumatic and hydraulic media.
10-260mm through bore
Pressure:0~350 Bar
Max. Rotational Speed:0~200RPM
Contact us to get the solutions
Features
Number Of Channel: 2~24
Connection Size: M5, G1/8"~G1"
Media Types:Air, Vacuum, Hydraulic
Operating Info
Pressure:0~350 Bar
Rotational Speed:1~200RPM
Temperature Range: -18°C~150°C
How to order: choose your options
Model No. Description: CTB30-211-G
CTB: Through Bore Rotary Union
30: 30mm Through Bore
211:
2 --Two Passage;
1 --With Thru Bore;
1 --1/8" Connection Size(2: 1/4" Connection Size; 3: 3/8" Connection Size; 4: 1/2" Connection Size; 5: 3/4" Connection Size; 6: 1" Connection Size);
G:
G --Pneumatic; H--Hydraulic
Note: The size, connection type, installation are available custom solutions.