USB221 Slip Ring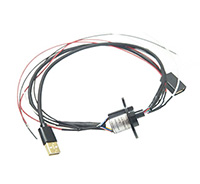 USB221 slip ring with 22mm outer diameter , can be mixed transmission signal. With transmission stability, no packet loss, no string of code, low return and insertion loss. Ultra-low BER error rate and superior signal to noise ratio.
Could transmit USB data combined with power and signal
Low return loss, low insertion loss.
USB slip ring specailly designed to transmit USB1.0/USB2.0
Standard USB wires connection
Features
One or more USB channel
Speeds up to 250 rmp
Gold-on-gold contacts
Ethernet:USB1.0 /USB 2.0
connectors:USB male/female
Benefits
Custom mechanical integration features
Low torque
360° continuous rotation
Rapid delivery
Note: Not all of part number list in this table, if can not find suitable products, please contact us!