ETW221 Ethernet Slip Ring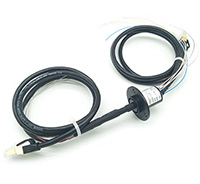 Slip ring is a precision device can be used in any electromechanical system that transfer signal and power from a statinary to a state structive, and the power and all kinds of signal can combination in one slip ring.
ETW221 Ethernet slip ring with compact design, 22mm OD, 1~2 channel Ethernet, can combine with 2A signal. Gold-gold plating which ensures low BER(bit-error rate)and high signal-noise ratio.
Features
Ethernet:100M/1000M baseT
BER(bit-error rate):10E-11
Connectors:RJ45
Precision ball bearings for long life
Benefits
Extremely compact
Low torque minimizes system torque budget
360° continuous rotation
Rapid delivery