Through Bore Slip Ring STR12 series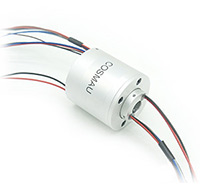 A slip ring can be used in any electromechanical system that requires unrestrained, continuous rotation while transferring power and / or data from a stationary to a rotating structure. A slip ring is also called a rotary electrical interface.
The STR12 series slip ring with 12.7mm hole for installation, and compact 56mm outside diameter for minimal space applications.
Current from 2A to 8A, larger current can be customized.
Metal housing for better protection. Integrated structure, easy installation.
Features
2-48 circuits model
Speeds up to 600 RPM
Gold-on-gold contacts
Precision ball bearings for long life
Flying leads
Benefits
Aluminum alloy structure
Custom mechanical integration features
Low torque
360° continuous rotation
Rapid delivery

Model no. description:
Example: STR12-P06S06
STR12----12.7mm Through Hole; P06----Power Circuits; S06----Signal Circuits