Through Bore Slip Ring STR38 series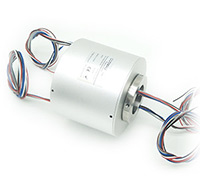 This slip ring require unrestricted use of mainly continuous rotation of the position where the transmission power or data from a stationary to a rotating structure, through the precious metal contact. Through hole slip ring basic technical parameters include diameter, inner diameter, length, number of rings, voltage, current, maximum speed, etc.
38.1mm though hole, 99mm compact dimaeter, aluminum alloy structure.
Features
2-96 circuits model
Speeds up to 500 RPM
Gold-on-gold contacts
Precision ball bearings for long life
Benefits
Aluminum alloy structure
Custom mechanical integration features
Combined with data, signal and power
360° continuous rotation

Model no. description:
Example: STR38-P06S06
STR38----38.1mm Through Hole; P06----Power Circuits; S06----Signal Circuits