Through Bore Slip Ring STR50 series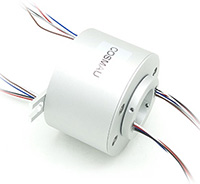 Cosmau electric slip rings are equipped with gold-gold anf fiber contacts. They can be used to transfer digital data, power, signal, such as Interbus, Profibus, Canbus or Ethernet up to the Gbit/s range, cosmau Slip rings can also be connected to rotary joints to transfer current, signals, digital data, pneumatic etc.
STR 50 series slip ring with 50mm hole and 119mm ouside diameter to meet your requires.Standard 2A, 5A, 10A; 20A for optional.
Features
2-100 circuits model
Speeds up to 500 RPM
Gold-on-gold contacts
Precision ball bearings for long life
Benefits
Custom mechanical integration features
Combined with power, signal, high speed data
360° continuous rotation
IP65,IP68 Optional

Model no. description:
Example: STR50-P06S06
STR50----50mm Through Hole; P06----Power Circuits; S06----Signal Circuits