Through Bore Slip Ring STR70 series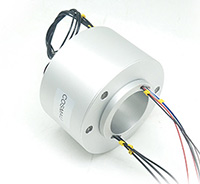 Slip ring is a connector in continuous rotary system, also known as rotary joints, collecting ring, rotary electrical interfaces, electrical slip ring, commutator, Particularly suitable for power or data transfer from a stationary to a rotating interface.
STR70 series slip ring with 70mm hole and 158mm ouside diameter, its provide routing space for shaft mount. Continuous 360° rotation to transfer power, signal, data.
Features
2-100 circuits model
Standard 5A, 10A
Speeds up to 300 RPM
Precious metal contacts
Precision ball bearings for long life
Benefits
Direction of lead wire exits
Low torque minimizes system torque budget
Custom mechanical integration features
360° continuous rotation
IP65,IP68 Optional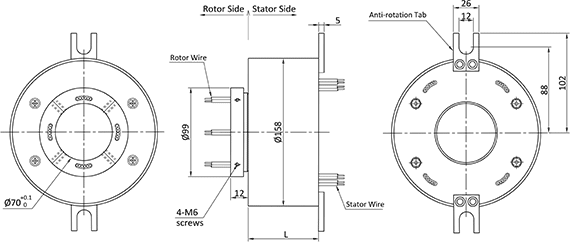 Model no. description:
Example: STR70-P06S06
STR70----70mm Through Hole; P06----Power Circuits; S06----Signal Circuits